Local Ties Runs Deep at Benedictine Ellendale
November 22, 2022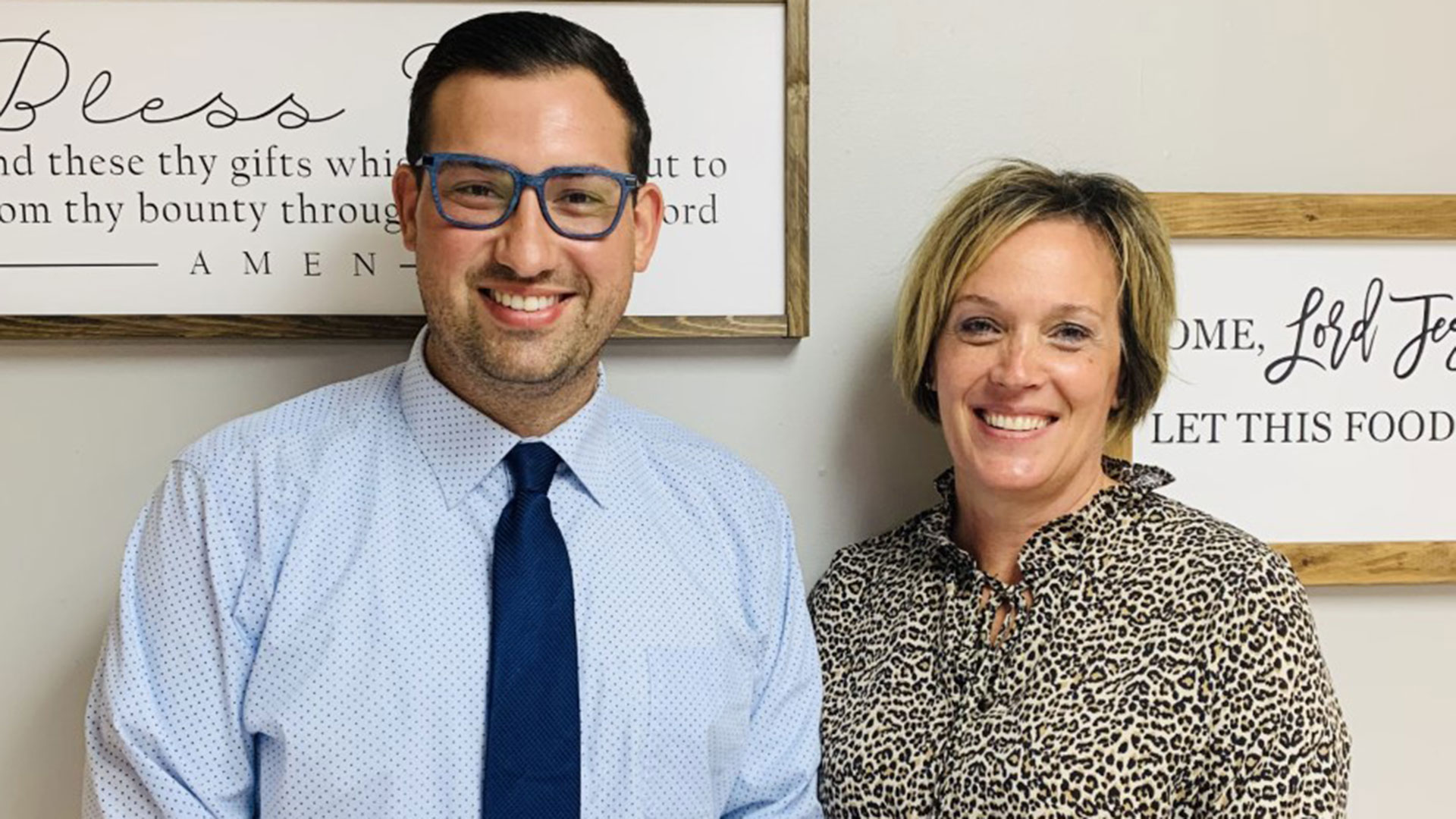 Benedictine Living Community-Ellendale has served as a senior care center for more than 60 years. During that time, it has cultivated a number of staff members who have gone on to dedicate their lives to long-term care and whose ties to the community remain strong.
Taylar Hack may have graduated from Ellendale High School 12 years ago, but he starts his days still recalling his time there. "I think of my high school FACS teacher, Cindy Klapperich, every morning as I iron my shirt and pants," he says with a smile.
Hack is an executive with nonprofit healthcare organization Benedictine, which offers care and living options to older adults and seniors in five states in the Midwest, including North Dakota. Hack, an Ellendale native, was promoted to regional operations vice president in July 2022, the youngest person to serve the company in that position.
Hack's connection to Ellendale runs deep.  He was born and raised in Ellendale to parents Rick and Vicki Hack, who still reside there.  His mom was born and raised in Ellendale. She is currently a physician's assistant for Sanford Health in Ellendale and often provides care for Benedictine's residents. His dad taught school and coached many sports in Ellendale for more than 30 years before his retirement. His maternal grandparents both lived in Ellendale, with his grandfather running the Texaco gas station for years. Hack's brother Brennan, his wife Tara, and their two children live outside of Ellendale. Brennan teaches at Ellendale High School. Tara is a physician for Sanford in Ellendale/Oakes and also serves as medical director for Benedictine Ellendale. His sister KaLee is a teacher in Fargo.
Hack was active in football, basketball and golf in high school before heading to Valley City State University where he received a degree in social/political science.
Hack first started with Benedictine in 2014 as housing manager at Evergreen Place and Assisted Living in Ellendale, working for Tony Hanson. Hanson was the administrator at Prince of Peace Care Center, now called Benedictine Living Community-Ellendale, for 23 years and is a long-time advocate for long-term care in the state.
It was Hanson who saw potential in Hack and encouraged him to become a licensed nursing home administrator. Hack pursued his administrator's license while working at Evergreen, spending hours with Hanson as part of his training.
"I knew Tony from the community and through church. He was very persistent that he felt this was something that fit me as a person and something I needed to do. Tony was a great mentor to me. I'm very thankful for his encouragement. I owe him so much truly," Hack said.
Hack recalls his family ties to the building where Evergreen Place is located, which once served as Ellendale's hospital.
"My grandmother spent her final days in the Ellendale Hospital, which is now home to Evergreen Place. My mom was the director of nursing at the hospital when it still existed. My grandma's hospital room, my mom's office, and my first office at Evergreen Place were all located in the same exact room within the facility," he explains.
In 2018, Hack was promoted to executive director of Benedictine's senior care and assisted living community in Bismarck, the company's largest campus in North Dakota. Joining him in the move to Bismarck were his wife Brittany (Broderson), whom he met while she was a social worker at Prince of Peace Care Center, and their daughter Everly, now 3, his pride and joy.
Hack then advanced to operations vice president for Benedictine's north region, overseeing the company's long-term skilled nursing, short-term care and rehabilitation, assisted living, and basic care communities in Minnesota, Illinois and North Dakota, including the cities of Ellendale, LaMoure, Wahpeton, Bismarck and Dickinson. Hack is based in Bismarck, with the company's main offices located in Minneapolis and Duluth, Minn.
Hack's main responsibilities are to oversee operational enhancements that promote high-level care, quality of life, and satisfaction for residents, families and staff.  His views align closely with the company's faith-based mission and core values, including Hospitality, Respect, Stewardship and Justice, which he considers one of its key strengths. As a "people person," he enjoys building relationships with residents, families, staff members, peers and healthcare partners across the organization, and being able to serve those that deserve so much.
Hack reflects fondly on his time growing up in Ellendale and how it helped shape who he is today.
"I love the way of life and the people there – genuine, hard-working, friendly and truly about supporting each other in community. In my work, that small town approach allows me to be me, and I understand the importance of developing meaningful relationships," remarks Hack. "Treat people with respect and as they should be treated, and good things will happen.  Love your neighbor as yourself."
Adds Hack, "I had a lot of great role models during my time in Ellendale. My grandpa Lawrence Iverson taught me so much about hard work and attention to detail. He served in World War II and truly was my best friend growing up. In high school sports, I learned about commitment and teamwork. I have my parents to thank for raising me the right way and supporting me throughout everything in life.
"In my career, Doug Kendall was my first boss and mentor of a successful business practice. He is a lifelong friend. Tony Hanson saw potential in me. He encouraged me to do something that was out of my comfort zone and pushed me to succeed. Tony was the toughest boss I ever had. I am forever thankful for him. And I'm grateful to my wife for all of her support."
Given his local roots, Hack appreciates Benedictine's commitment to providing senior care services in smaller communities like Ellendale. Hack works closely with Naomi (Riddle) Grueneich, currently executive director of Benedictine Ellendale, which has been recognized as a "Best Nursing Home" by U.S. News & World Report and is a top rated senior care center.
Grueneich also worked under Tony Hanson when he served for a time as administrator at St. Rose Care Center, now called Benedictine Living Community-LaMoure.  Similarly, Tony mentored Grueneich and encouraged her to get her nursing home administrator's license. After receiving her license, she served as administrator of Benedictine LaMoure before later joining Benedictine Ellendale.
Grueneich grew up on a dairy farm outside of LaMoure. Her husband Jim grew up in Ellendale and is a cousin to Taylar Hack's mom, Vicki. Jim's mom Lucy served as long-time housing manager at Evergreen Place.
"It really is a family environment here, and we are dedicated to serving our seniors who have given so much to our community and helped shape Ellendale into what it is today," Grueneich states.  "We are proud to help local residents age in place in a community they love and call home – close to friends, family and people they know – instead of having to go miles away to unfamiliar cities for the quality care they deserve."`