BHS community board member named 2019 Trustee of the Year by LeadingAge Minnesota
February 19, 2019
Duluth, Minn. – Bill Foussard, Cerenity Senior Care board member, was named the 2019 Board Trustee of the Year by LeadingAge Minnesota at this month's LeadingAge Minnesota Institute conference for older adult services providers. Cerenity Senior Care is a partner of Benedictine, a leading faith-based provider of senior care and living services in the Midwest.
This award honors a volunteer board member whose leadership, service, commitment and actions have enriched the lives of older persons, enhanced the community and supported the organization in its mission and service to older adults.
"Bill Foussard is a powerful advocate for older adults and the persons who provide them with care and supportive services. His stewardship, customer service and leadership – in good times and at times when difficult decisions need to be made – is the epitome of what it means to be a board trustee," said Gayle Kvenvold, president and CEO, LeadingAge Minnesota. "Bill's leadership, generosity and collaboration have helped create a unique sense of purpose and belonging at the Cerenity communities."
Foussard has served on the Cerenity Board of Directors for eight years. He is an active member of the board, collaborating with area businesses to engage them in supporting senior services, advocating for foundations and private donors to contribute to the enhancement of seniors and the lives of the residents at the Cerenity communities, and supporting the staff and residents through activities and events he personally hosts.
Foussard was nominated for this recognition by staff at Cerenity Marian, for his unwavering dedication to and advocacy for the residents and staff who live and work in Cerenity communities. View his nomination video here:
"Bill embodies leadership and excellent customer service wherever he goes. He has been a staunch supporter of our renovation plans at Cerenity Marian and was a direct and comforting source of support to staff, residents and their families when we had to make the difficult decision to close two communities," said Sharyl Kasse and Anne Kolar, marketing directors, Cerenity-Marian.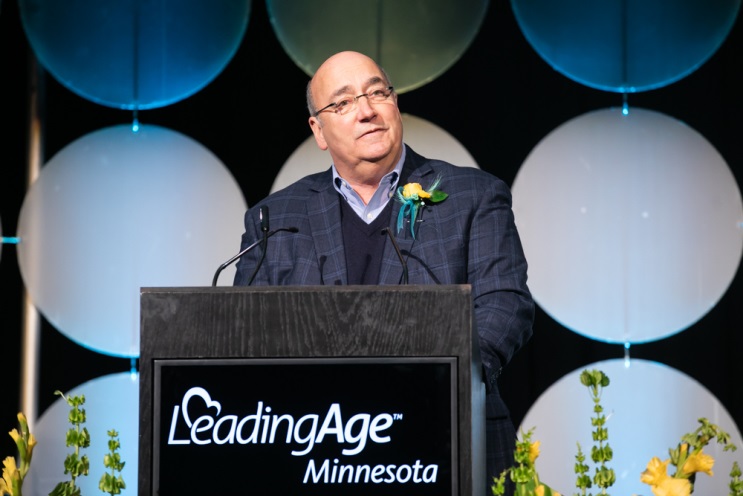 "As a business owner, Bill understands the need for good stewardship of resources as services are provided in the customer service field. He is inclusive to all whom he comes in contact with – including his own businesses and the community in which he lives and serves," said Kay Schumacher, administrator/CEO, Cerenity Care Center – Marian of St. Paul, Minn.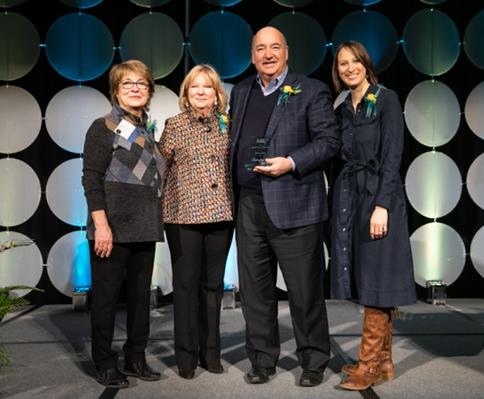 Bill Foussard accepted the Board Trustee of the Year Award at the 2019 LeadingAge Minnesota Institute. Pictured with him left to right are: Nancy Stratman, Board Chair, LeadingAge Minnesota Board of Directors; Gayle Kvenvold, President and CEO, LeadingAge Minnesota; and Sara Sterling, LeadingAge Minnesota Awards and Recognition Committee Chair.