Kevin Rymanowski recognized as one of the 2022 CFO of the Year honorees by Minneapolis/St. Paul Business Journal
September 13, 2022
Kevin Rymanowski, Benedictine chief financial officer, was selected as one of the 2022 CFO of the Year honorees by Minneapolis St. Paul Business Journal.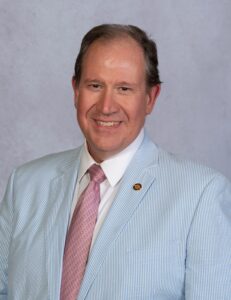 During his 25 years at Benedictine, he has led the finance department with a personal commitment to the Benedictine Mission and Core Values and unwavering devotion to quality care for the residents in Benedictine communities. His insights and instincts have helped guide Benedictine through good times and challenging times, helping Benedictine to grow into one of the top 10 nonprofit senior care organizations in the nation.
"In addition to his excellent skills as a CFO and dedication to Benedictine, Kevin is one of the strongest team builders I know," said Jerry Carley, Benedictine president/CEO. "Regardless of whether you are a new associate or one that has been with Benedictine for years, he goes out of his way to make you feel welcome and a valued member of the team."
Rymanowski also is active in his community and his church, Mary Queen of Peace. In addition to serving on many of the Benedictine community board of directors, he serves on the board of directors of Homeward Bound, an organization that assists individuals in finding their voice and realizing their full potential.
The Minneapolis/St. Paul Business Journal announced its 2022 CFO of the Year honorees on Sept. 12. To view the announcement, visit https://bizj.us/1qgerh.
Chief financial officers oversee functions ranging from human resources to technology to strategy — and finances, of course — and have an existential impact on their companies. But since their work often takes place behind the scenes, their achievements can be overlooked outside of their own organizations. Minneapolis St. Paul Business Journal introduced their CFO of the Year award in 2007 to remedy that, by celebrating outstanding financial leaders at Twin Cities companies large and small.
Minneapolis St. Paul Business Journal CFO nominees were evaluated by a panel consisting of other financial executives, who scored them on their contributions to the company and the community. This year's honorees will be recognized at an awards event in November along with a full profile in our publication.