"I Just Wanted to Come Home to Crookston"
August 31, 2022
Mark Hoiland, Veteran, Father and Crookston native rehabilitates successfully at Benedictine Crookston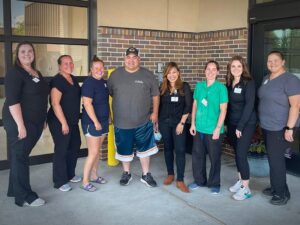 "They said I almost died three different times." Mark Hoiland recalls quietly as he recounted his fierce battle with COVID-19 that began late October of 2021 when he entered the hospital, sick, with difficulty breathing, and was placed on a ventilator the very next day.  If it wasn't for his daughter's Facebook posts he later read, he said he wouldn't have even known how close he was to not making it out of that ICU.
"I was told by my doctor; the medical team had never seen anyone survive a temperature higher than mine at 106*.  They said I was a miracle story.  When they would flip me from front to back, when I was in a coma, my oxygen levels wouldn't hold.  It was touch and go.  When I finally got off of the ventilator, my kidneys started to fail, so in November dialysis was started.  COVID impacted my entire being including my skin from not being able to move on my own."  He goes on to say. "The bottom line,  is the love of my daughters kept me going and medical care kept me alive."
Mark Hoiland is no stranger to challenges, risk and danger.  A retired Sergeant with 21 ½ years of service with deployments to Bosnia from 2003-2004 and Iraq 2005-2007, Mark was a Bradley Gunner and 11 Bravo Infantry Soldier.  To then have to face a different kind of enemy right here in our country was his greatest test physically and emotionally.  "My daughters Morgan (21) and Madison (18) really pulled me through.  Madison my youngest, was able to support me while still keeping up her studies, swimming and basketball career as a high school senior. And Morgan…she was my rock and pillar. She was there every day at the hospital; overseeing my care with the medical team. I am proud beyond words of my girls."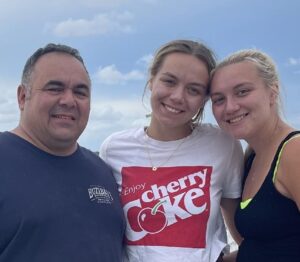 Hoiland goes on to say, "From January 6 through March 2nd I was at Vibra, a specialty hospital in Fargo, before spending another few weeks at Mayo in Rochester. When the Villa had an open bed in their Short Term Care and Rehab I knew immediately  I just wanted to come home.  I was SO excited to get back into Crookston and be with family and friends again.  It was a big part of helping me get strong,  heal fast and finally return home to do what I love!"
Nurse Manager Leslie Rasmussen was part of the multi-disciplinary team focusing on Mark's medical complexity by helping develop and deploy his overall plan of care.  "The situation Mark had to go through was not an easy one, but with his determination and focused personality he was able to overcome it. He worked so hard to get to where he is now and I am thankful that he entrusted us here at Benedictine Crookston to help him through. I am so proud of Mark and honored to be a part of his success story!"
Mark received very specialized and complex medical services and full therapy.  "When I came in I had just started walking again with a walker.  Madi in rehab worked with me extensively to really get me back on my feet. She was great.  The therapy team was awesome and kept me progressing towards my goals."
Madison (Madi) Tate, COTA/L added, ""Mark came from a military background and you could see the qualities from his military experience such as discipline and determination carry over into his therapy sessions. Mark always worked hard when he was in the gym and was always wanting to push himself and try new things."
Mark stated that he knew many of the people that worked at Benedictine.  "It really was a key part of helping me get better fast.  It is kind of like family and friends were all over the place. And those CNA's, they were always willing to help me and ask what they could do, just exceptional.  Marcie Haugen from Laundry and Nicole Volker from Culinary would stop by just to check on me and see if they could help.  Angie Tronnes kept my room clean, she and I go way back.  And Staci Wills, what a super giddy and fun girl. Steff Bautista and Leslie Rasmussen led up my care direction and Lynell LaCoursiere and Sarah Follette were great nurses. Everyone was so good to me and so good at their work.  It was a great experience at the Villa.  We have it all here in Crookston."
Mark is now home and doing those things he loves to do.  He is thankful to be able to live again:  Fishing year round, playing billiards, snowmobiling in the winter and working at American Crystal Sugar (a faithful Benedictine Foundation community partner).  All those things that, at one time, were  just everyday happenings in  life.  Now they are truly a gift enjoyed by an American Veteran who won the battle of a lifetime.