BLCD Team Leads Corporate Fundraising for 2022 Walk
December 6, 2022
Walk to End Alzheimer's is the world's largest event to raise awareness and funds for Alzheimer's care, support and research. Again this year, dressed in purple, we walked with and for our residents on Friday, September 9th. Due to rain we walked inside from Benedictine Health Center, through the Monastery to the College of St. Scholastica and back. Shout out to the CSS football team as they joined the walk pushing and encouraging our residents. Members of our team walked the Twin Port's Area Walk to End Alzheimer's on Saturday, September 10, 2022.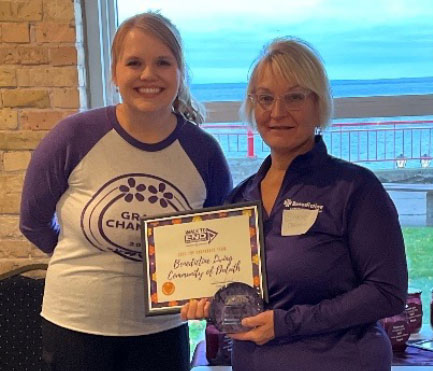 This year's team raised a record amount, $13,359. Team captain, Stacie Oakland shared, "We are thankful for the support of our friends and families, our community and all who have helped us to get to this point." Oakland also added, "We are the top corporate team for this area's walk. Being able to raise this support and friends is amazing."
Brian Pattock, Executive Director said, "To our team it is a daily part of their job to not only care for those with the disease but create awareness and support of the cause. Each year some of the team members change but the message stays the same, we are in it for our friends, families and for the camaraderie created by working together with our fellow employees." We are proud of the results of this effort.