Benedictine Living Community-St. Joseph welcomes Amy Byrom, executive director
April 14, 2022
Benedictine Living Community-St. Joseph has named Amy Byrom as executive director.
Byrom comes to Benedictine St. Joseph with more than 23 years of long term care leadership experience. A graduate of Missouri Western State University, St. Joseph, she began her career as an activity director at an area senior living community. She advanced to the position of director of social services, adding responsibility for admissions and marketing to her role. In 2005, Byrom obtained her long term care administrator's license and became an assistant administrator. Later, she was promoted to the position of administrator.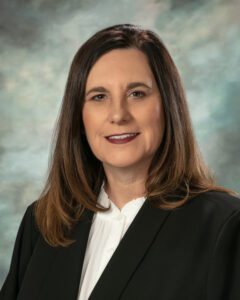 A creative leader and problem-solver, Byrom attributes her enthusiastic approach to leadership as her way of building strong teams who are able to provide the best possible care for residents. "I chose to become a part of the Benedictine St. Joseph team because their commitment to the community of St. Joseph matches my own. The opportunity to provide care for our community across all levels of the continuum allows me to build upon my experience in new ways and provide an optimal quality of care."
Byrom is a native of St. Joseph and has strong ties to the community. She is an active volunteer with the Fraternal Order of Police Auxiliary and currently serves as Sergeant of Arms. She and her family live on a farm and enjoy the outdoors.