Benedictine LaMoure Offers Services and Resources for Local Veterans
November 15, 2022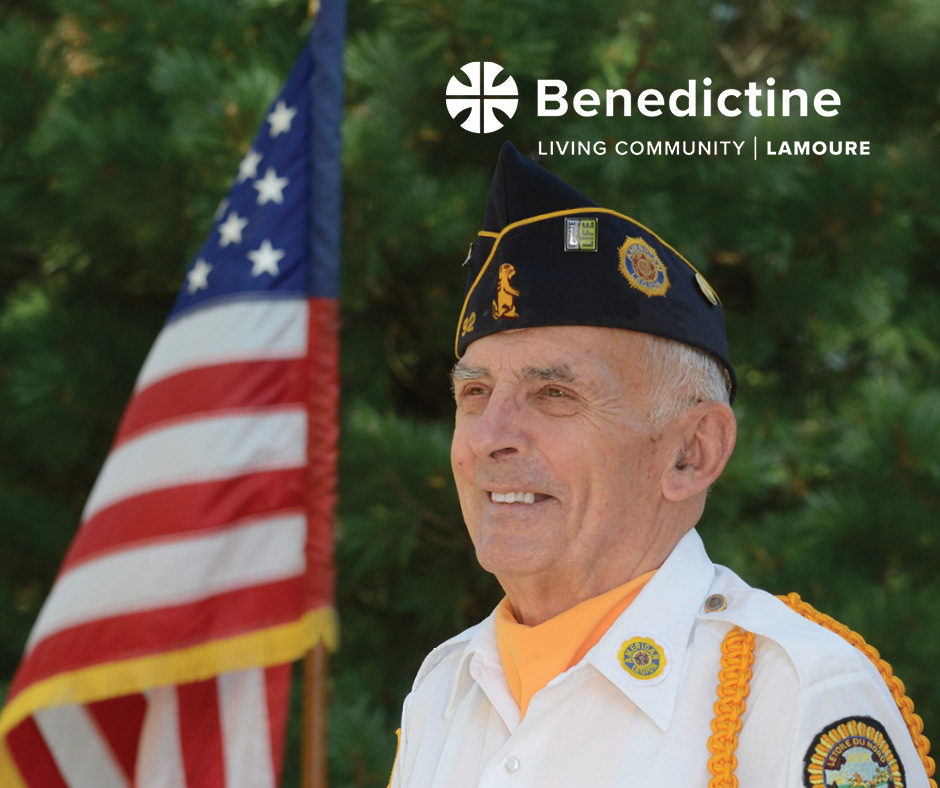 Veterans Day is an opportunity for all of us to thank our Veterans and express our deepest gratitude to them for serving our country and protecting our freedom.
Benedictine Living Community-LaMoure has been committed to serving Veterans for 50 years. Benedictine LaMoure is proud to be one of 15 VA Contract Facilities in North Dakota and the only skilled nursing VA contract facility in the southeast region. Often we get asked about what kind of care is covered for Veterans. Below are some answers to commonly asked questions.
Where can a Veteran go for nursing home care?
There are two types of agreements that a nursing home can have with the VA (Department of Veterans Affairs):
Local contracts: These are nursing homes that have a contractual agreement with a Veterans Affairs office, such as Benedictine LaMoure has with the VA. Nursing homes who are locally contracted can accept Veterans for all types of care including long-term care, skilled rehabilitation, respite care, and hospice care.
Community Care Network: These are nursing homes who have joined the VA's Community Care Network.  They are able to take Veterans who are administratively eligible for skilled rehabilitation only.
What does VA paid nursing home care cover?
VA paid nursing home care covers semi-private room and board, nursing care and services, lab work, supplies, provider visits, medications, and rehabilitative therapy.
What services are provided within the community nursing home program?
Veterans who also meet administrative requirements set by Congress, are eligible for VA payment in a nursing home for:
Skilled rehabilitation – Following a hospitalization, some Veterans need a short rehab stay in a community nursing home to regain strength, function or mobility, before returning to their own home.
Long-term care – Veterans who require nursing-home level of care longer than 100 days are considered long-term care.
Veterans must be enrolled to receive VA health care.  All enrolled Veterans who clinically require nursing home care are eligible for:
Inpatient respite care – All enrolled Veterans are eligible to utilize up to 30 days of inpatient respite per calendar year. (Respite care, often called caregiver relief services, is having a loved one stay temporarily at skilled nursing community, providing their primary caregiver at home with a needed break or extra support.)
Inpatient hospice – All enrolled Veterans seeking nursing home care due to hospice (those with a life-limiting, terminal illness or disease) maybe be eligible for paid nursing home care.
Will a Veteran's benefits be affected?
Veterans will continue to receive monthly compensation for service-connected disabilities while in a community nursing home under VA pay.  VA pension benefits are lowered if a Veteran is in paid nursing home care more than 90 days.
How can Benedictine LaMoure help?
With only a few brief questions, Benedictine LaMoure can help determine whether you or a loved one may be eligible for Veterans' services and discuss what options are available.  We work closely with the Veterans Administration to provide information and resources, and can help guide you through the application process.
Once a Veteran is admitted for care, the VA will continue to evaluate the need for nursing home care and communicate regularly with Benedictine LaMoure to ensure satisfaction with the care provided.  We also offer assistance in reporting to the VA any major life changes that can affect eligibility.
Benedictine LaMoure is here to help.  The rewards of our work are many, including feedback from families who've entrusted their loved ones to our care.
"My family and I continue to be impressed with the amazing care at St. Rose.  Everyone there cares so much and treats my father, and all the residents, like family.  Being a distance away, it gives us comfort to know he is being well taken care of.  When we do come visit, we always get a warm welcome from whomever is working.  Everyone is always so willing to speak with us and give us updates and the information we need and want to know.
"Simple things like that are what makes your facility stand out.  Dementia is not an easy thing to see anyone go through, and putting my father in someone else's care was difficult for us.  We know that we have found the right place for him at St. Rose and we appreciate all you do for him."    –  Cody, daughter of a Veteran and memory care resident
To learn more, contact Kayla Rodin, RN, BSN, Admissions Nurse at Benedictine Living Community-LaMoure at 701-883-5330 or kayla.rodin@benedictineliving.org.
Article resource:  Fargo VA Office