Benedictine honors Tim Scanlon with the Benedictine Distinguished Leader Award
September 19, 2022
At the 2022 Annual Conference in Duluth, Minn., Benedictine honored Tim Scanlon with the Benedictine Distinguished Leader Award.
The Benedictine Distinguished Leader Award recognizes individuals who, through their extraordinary contributions, result in a brighter future for aging adults in our nation. The award is given in grateful appreciation and as a permanent testament for distinguished leadership to Benedictine.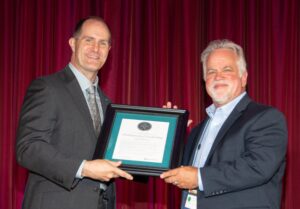 For more than 20 years, Scanlon shared his time and talents as a member of the Benedictine Care Centers Board; as a member of the Benedictine Foundation Board; as a member and officer of the Benedictine Board Finance Committee; and as a member and officer on the Benedictine Board of Directors.
He is honored for his many years of professional and true personal dedication to his roles that have shaped and advanced the Benedictine Mission and Ministry, for sharing his unique and positive ability, knowledge and expertise to guide the decisions that have strengthened Benedictine.
Benedictine gratefully acknowledges his heart for the Benedictine Mission which has led him to raise accountability and encourage excellence to achieve positive operating results and extends a sincere thank you for his service.