Ashley Kraft, Sr. Claudia Living a Legacy Recipient 2022
October 10, 2022
Sister Claudia Riehl, OSB: Living a Legacy program honors Ashley Kraft
Crookston, Minn.– Ashley Kraft, RN, Infection Preventionist  was recently honored for her commitment to the Benedictine Mission and Core Values with the presentation of the 2022 Sister Claudia Riehl Living a Legacy award.
For nearly 20 years, Sister Claudia Riehl, OSB, dedicated endless energy and countless hours of time, as well as her valuable knowledge and expertise, to further the Benedictine Mission and Core Values.  As a leader in the Benedictine mission integration department, her presence and leadership guided the development of the ministry and culture.
In 2011, the Benedictine Foundation launched the Sister Claudia Riehl Living a Legacy recognition program to continue Sister Claudia's efforts and recognize those associates who model her commitment to the Mission.
"We are so proud of our entire hard working and talented team.  Ashley was chosen this year by her peers for her exceptional efforts during the pandemic and beyond." States Administrator Lindsey Erdman.  She had multiple nominations, including this one that sums her up quite well….:"
"Ashleyis Sr. Claudia "worthy".   She emulates her virtues of kindness, compassion, and commitment all bundled up with a clever sense of humor and smiles that keep us moving forward as a team.  And this Pandemic?!  How would we have survived without the talents of the smartest Infection Preventionist Nurse ever?  Her work is impressive at the bedside; her paperwork spot on.   How she kept up with all the changing rules by the day, sometimes moment …I will never know.   Ashley has worked excruciating hours when she was needed day and night while juggling a beautiful family with the help of you know who (husband Matt works in Maintenance).  Ashley, you make our community more safe.  More fun.  And more joyous.  Thank you."
Ashley joined Benedictine as the RN Infection Prevention Nurse in 2018.  With a young, busy family at home the part time position fit perfectly.
Then came COVID.  Ashley's world tipped upside down with Benedictine's.  Her hours exploded to all shifts.  "I have to say that the entire situation was honestly, horrible.  One day the government told us we had to lock down and keep families and friends out and the next minute they change their mind and directed no restrictions whatsoever.  It was difficult because we had rules changing by the minute yet their expectations on us were unattainable.  We just wanted to ensure our residents and tenants were as happy, healthy and safe as possible but the challenges were overwhelming for us all.  Thanks to our Team and our supporters for all you did to help us through. We couldn't have done it without you." Ashley notes with her usual quick smile.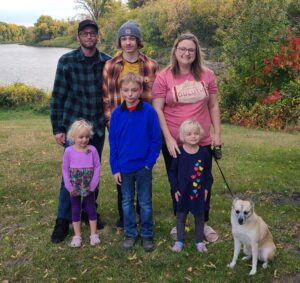 Previous recipients include:  2011 Bonnie Munn, 2012 Alice Drew, 2013 Roxanne Goulet, 2014 Rick Solheim, 2015 Peggy Wangen, 2016 Nancy Moser, 2017 Teresa Persson, 2018 Judith Meyer, 2019 Tammy Parkin,  2020 Jon Myrold and 2021 Nicole Volker.
Benedictine Living Community-Crookston, also known as Villa St. Vincent and The SUMMIT is a member of Benedictine, a nationally recognized Catholic, non-profit long-term care organization based in Duluth, Minn., sponsored by the Benedictine Sisters of St. Scholastica Monastery, Duluth.  Benedictine provides a full spectrum of health and housing services through its short-term care and rehabilitation centers, long-term care centers, assisted and independent housing and community-based services in Minnesota, Illinois, Missouri, North Dakota and Wisconsin.  Additional information may be found at bhsprod.wpengine.com.