Senior Health Care and Senior Living in Bismarck, ND
Experience the possibilities.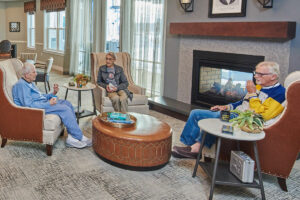 In North Dakota, it's easy to have a bigger view of life. Around here, as the sky stretches on forever until it meets up with the land on the far horizon, the possibilities seem endless. The residents who call our Bismarck, ND, Benedictine Living Community (previously St. Gabriel's Community) home are a reflection of the connection, strength and practical values of the surrounding Missouri River Valley.
As a faith-based senior living community, we believe in providing compassionate service to others. Which is why we offer a range of living options — assisted living, skilled nursing and rehabilitation — that honors the individual by allowing residents and their families to create a care plan that fits their personal likes. We're also able to tap into the strong Benedictine network to ensure we're providing a lifestyle that incorporates the best senior living thinking, training and techniques. To us, there is no higher calling.
There's power in community. Those who make their home within the Benedictine family know this firsthand. Learn more about how we keep the best interest of our residents at heart through all of life's ups and downs.