INDEPENDENT SENIOR LIVING IN OSSEO, MN
A living option with boundless opportunity.
Independent living in Osseo, MN, is about freedom to choose the things you want to do while leaving chores and home maintenance behind. Benedictine Living Community-Osseo offers just that. In addition to comfortable residence options, you'll find an active, engaging independent senior lifestyle — all within a community of like-minded individuals who enjoy living life their way while feeling the supportive reassurance of having on-site continuing care available should they ever need it.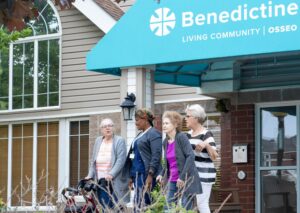 Choosing independent living at Benedictine Osseo means you're free to stay engaged, pursue new interests, and make the most of everything our modern faith-based senior community has to offer. Dine with friends and neighbors in the restaurant-style dining room or take short walk to any of the restaurants in downtown Osseo. Or cook for yourself and enjoy an evening at home. It's all up to you.
Choose one of several floor plans that offer easy access to community amenities. Whether you prefer a studio or a one- or two-bedroom apartment, they feature full kitchens and bathrooms, large living areas, and lots of natural light. Reserve your selection now and get the chance to customize your space with your favorite options. Pricing for independent living residences starts at $2,360 per month.
Included in your monthly independent living fee:
Hot delicious breakfast daily in our dining room
Weekly housekeeping, including bathroom, kitchen, vacuum and trash removal
Heat, electricity, water and trash
Temperature control in each residence
Daily well-being check available
On-site parking (or upgrade to our attached garage)

Resident services coordination
On-site, personalized therapy and exercise groups
Social, educational, spiritual and recreational opportunities
24-hour secure building
Staff available 24 hours a day
We're also proud to offer independent living residents our At Your Service Program, which allows you to gradually add services as needed. Whether it's well-being checks or assistance with daily living activities, the At Your Service Program provides access to Benedictine's care team for additional support and services delivered right to your new home.
"I would recommend Benedictine in Osseo because it is very pleasant. It's like a hometown community and I wouldn't want to live any place else."
—Darlene
Take a peek inside
Why would I choose independent living if I can stay in my home instead?
Living alone in a house that was once full of family can be isolating and lonely. Independent living communities offer an array of opportunities to socialize, learn something new, enjoy cultural events, and more. And when you choose an independent living community, you can leave chores like cooking, cleaning, home maintenance and lawn care behind. If your family members worry about your safety living alone, they'll gain valuable peace of mind knowing you live in a community with staff on-site 24 hours a day, seven days a week. For more information, read our blog post, When is Independent Living Needed?
How do I choose a senior living community?
How much will independent living cost?
The cost of independent living will vary depending on the community and the type of residence you choose, our rent starts at $2,360. Contact the community for more detailed information.
Can my grandchildren, family and friends visit?
Your guests are always welcome in your home, and they're more than welcome to enjoy our common living areas, dining venues, amenities and activities with you while visiting. Some of our communities also offer guest rooms that can be reserved and rented for visiting family members and friends.
Are pets allowed?
Yes. They're family, too! Many of our communities are pet-friendly and welcome dogs, cats, birds and fish upon approval through our Pet Admissions Program. Be sure to ask about the pet policy, approval process, and the pet-friendly areas of the community when you visit. All our communities accept service dogs and certified companion animals.
May I bring my car?
Many people do bring their cars, but with all the transportation options provided by our communities, a car isn't a necessity. Many couples find they prefer one car instead of two, but that's totally up to you.