Faith-Based Senior Living in Osseo, MN
A lifestyle that has it all.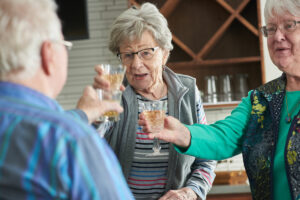 Our senior living in Osseo, MN, offers residents of Hennepin County small-town living near Minneapolis' cosmopolitan lifestyle. So you can enjoy life at your own pace while knowing world-class museums as well as theatrical, musical and symphonic performances are just a short drive away. Or if you prefer the great outdoors, the hiking, fishing, biking and more of Elk Creek Park Reserve is less than 10 minutes away. You'll find the residents of Benedictine Living Community-Osseo to be a lot like you — friendly, adventurous and outgoing — and a true reflection of the surrounding area.
As a faith-based senior living community, we believe in providing compassionate service to others. That is why our retirement community offers a range of living options — independent living, assisted living and memory care — to help you keep living the life you enjoy while providing a practical plan for the future.
There's power in community. Those who make their home within the Benedictine family know this firsthand. Learn more about how we keep the best interest of our residents at heart through all of life's ups and downs.