Catholic Senior Living in Ada, MN
A deep sense of caring brought to life by our service.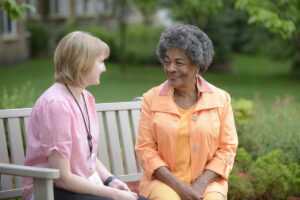 Benedictine Living Community–Ada sits in the heart of Ada, Minnesota, and has grown over the years to incorporate a multitude of living options for local seniors. On campus, residents of our Mission Court apartments find the warmth and comfort of the assisted living lifestyle best suited to their unique preferences. Those residents also gain the security of having nationally recognized skilled nursing and rehabilitation capabilities right here to support short- or long-term health needs at any point in time.
We set ourselves apart from other Catholic retirement communities or faith-based senior living communities because of the ways we extend our reach. This includes delivering supportive services to two local Ada, MN, apartment complexes — Valley View Manor and Summerfield Place — where we provide tenants the helping hand they need to stay in their homes. It's also seen in the exceptional continuity of care we can provide to those we serve thanks to our connection with Essentia Health — Ada's hospital, emergency room and clinic.
At Benedictine Living Community–Ada, we're committed to serving everyone of any denomination in a friendly environment with a true sense of community. This drive is born out of our deep-rooted sense of compassion and care, and the mission, vision and core values we share with our Benedictine family.
There's power in community. Those who make their home within the Benedictine family know this firsthand. Learn more about how we keep the best interest of our residents at heart through all of life's ups and downs.