St. Joseph Senior Living Community
Your partner for living fully, living well.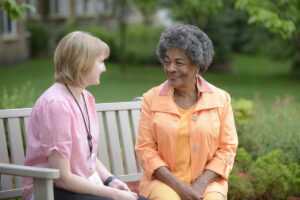 In keeping with the core values of our Benedictine family, Benedictine Living Community-St. Joseph pays careful attention to nurturing the mind, body and spirit. You'll find our genuine approach starts with the close relationships we develop with our St. Joseph, MO, senior living residents and their families.
And thanks to a full continuum of senior living options, we can put those connections to use, creating life-enriching experiences at every level. This not only allows for smooth transitions should needs change, but also generates a true sense of community. It's all part of our faith-based organization's mission of bringing health, independence and choice to life for the older adults who make their home at our St. Joseph senior living community.
There's power in community. Those who make their home within the Benedictine family know this firsthand. Learn more about how we keep the best interest of our residents at heart through all of life's ups and downs.

Award-winning senior living at your service.
Proudly named KQ2 Best of St. Joseph Senior Living Community in 2018 and 2019, as well as earning New Press Now's Readers' Choice Award for Favorite Senior Living Community in 2017, 2018 and 2019; Favorite Rehabilitation Facility in 2018 and 2019; Favorite Retirement Community in 2018 and 2019; Favorite Nursing Home in 2018 and 2019.