Benedictine Living Community Senior Health Care in Wausau, Wi
Care and compassion are the cornerstones of who we are.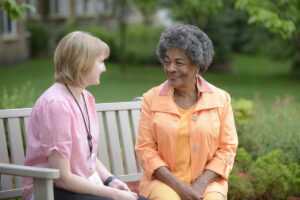 At our core, Benedictine Living Community-Wausau is a senior health partner focused on honoring the people we serve. Whether you're engaging our Wausau, WI, community for senior rehabilitation or more acute senior health care and skilled nursing needs, the special attention paid to each person remains the same.
As a part of the Benedictine family, our Catholic beliefs and foundational values of hospitality, stewardship, respect and justice inform all that we do. You'll find it's those same beliefs that also open our doors and our hearts to people of all faiths in search of a place to live well. And unlike some nursing homes in Wausau, WI, our roots within the greater community run deep, with decades of experience helping local seniors and their families find comfort and health.
There's power in community. Those who make their home within the Benedictine family know this firsthand. Learn more about how we keep the best interest of our residents at heart through all of life's ups and downs.