Senior Health Care and Rehabilitation Center in Minneapolis, MN
Stay close to family and the city you love.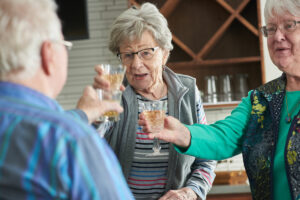 One of the biggest factors in someone's overall health and well-being is living close to family, friends and familiar surroundings. Our location near downtown Minneapolis means we're conveniently located near all the dining, entertainment and cultural offerings of a metropolitan city you already know and enjoy. Plus it's easy to get together with family and friends.
As a part of a faith-based organization, Benedictine Living Community–Minneapolis is dedicated to treating your loved one like family. Our range of high-quality senior living services — skilled nursing and rehabilitation — honors the individual by allowing residents and their families to help create a care plan that fits their personal likes.
Being a Benedictine Living Community allows us to tap into a strong senior living network to ensure we're providing care at our skilled nursing and rehabilitation center that employs the best training and techniques to boost your loved one's overall health and wellness. To us, there is no higher calling.
There's power in community. Those who make their home within the Benedictine family know this firsthand. Learn more about how we keep the best interest of our residents at heart through all of life's ups and downs.