Benedictine Living Community in La Crosse, WI
A community guided by doing what's right.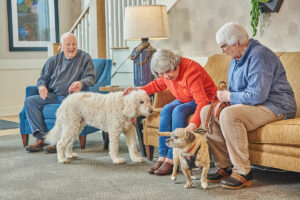 Benedictine Living Community–La Crosse is a faith-based organization that operates with a clear mission of providing caring support that enables those we serve to live fully and live well. This sense of purpose is why we work so hard to be the top option for senior living in La Crosse, WI, and the surrounding area.
Within our continuum of care, we offer compassionate long-term skilled nursing care and short-term rehabilitation in the homelike atmosphere of our Benedictine Manor neighborhood. And connected to these care-focused residences is our beautiful assisted living complex, Benedictine Villa.
There's power in community. Those who make their home within the Benedictine family know this firsthand. Learn more about how we keep the best interest of our residents at heart through all of life's ups and downs.