Faith-Based Senior Living Community in Crookston, MN
An opportunity for growth.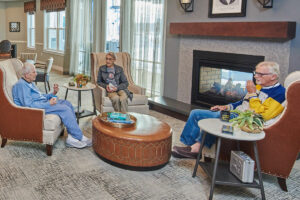 Like our location in the Red River Valley of Polk County, our faith-based senior living in Crookston, MN, is full of potential. We feature a rich culture of friendly, salt-of-the-earth residents who enjoy the peaceful lifestyle of small-town living. And like any small town, our dedicated staff knows each resident's likes and goals. We work with residents to create a customized approach that lets them enjoy life on their own terms.
Our retirement community offers a range of intergenerational services, including assisted living, skilled nursing, memory care, rehab and child care. Being a Benedictine living community allows us to tap into a strong network to ensure we're providing care that incorporates the best training and techniques to boost your loved ones' overall health and wellness. To us, there is no higher calling.
There's power in community. Those who make their home within the Benedictine family know this firsthand. Learn more about how we keep the best interest of our residents at heart through all of life's ups and downs.