Benedictine among organizations to promote vaccination among staff
February 10, 2021
By Julie Minda
"I am rolling up my sleeves to help protect me and my loved ones."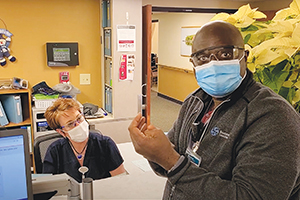 "I am rolling up my sleeves so our residents can get back to normal."
"I am rolling up my sleeves so I can go and visit my grandma."
A video from Duluth, Minnesota-based Benedictine features a diverse group of associates from some of the eldercare system's facilities explaining their reasons for being among the first to be vaccinated against COVID-19. In the video, which the system created primarily for staff, system President and Chief Executive Jerry Carley says, "The news of a vaccine gives us hope for a new chapter in our fight against this virus."
As health care organizations across the U.S. initiate mass vaccination efforts among frontline staff, they are simultaneously lighting up education and communication channels to address any apprehension workers might have over being first in line for vaccines developed at unprecedented speed.
The Food and Drug Administration had given emergency use authorization to two COVID vaccines as Catholic Health World went to press early this month. Some Catholic health providers are among employers who have said they will not mandate the vaccinations as a condition of continued employment.
Gaining trust
Providence St. Joseph Health is among Catholic systems building trust in the vaccine based on safety and effectiveness data from vaccine trials and the urgency of halting a pandemic that had claimed more than 350,000 lives in the U.S. by early January. "And every mechanism we have for communicating that, we're using," said Rebecca Bartles, executive director of system infection prevention.
With newsletters, emails, town halls and daily staff huddles, the system is thumping the prevention drum across its 51 hospitals and 29 long-term care facilities in seven states. In a blog post aimed at associates published Dec. 14, Providence St. Joseph Health President and Chief Executive Dr. Rod Hochman wrote: "Immunizing the health care workforce for COVID-19 is a critical step in changing the trajectory of this pandemic and finally getting it behind us."
In mid-November, Providence St. Joseph surveyed workers about their willingness to get the vaccine. Of those eligible to be at the front of the line because they care for COVID patients, 68% said they would take it as soon as they could, Bartles said.
Dr. Sam Bagchi, executive vice president and chief clinical officer at CHRISTUS Health, said that in a survey of associates across all job categories taken just before Thanksgiving roughly 33% said they would absolutely get the vaccine, around 30% said they were unsure and just under 40% said they weren't interested. He said that the number of associates open to being immunized appears to be growing.
"As we start to preregister people to actually receive the vaccine, it appears higher numbers than we initially estimated are going to opt in," Bagchi said just days before CHRISTUS started inoculating staff in mid-December.
Ear to the ground
Catholic health care providers are mining employee feedback to gain a more nuanced understanding of confidence or hesitancy about the vaccine and refine their communications strategies accordingly to address concerns.
In addition to having sent out a formal survey at the start of December, Avera Health is monitoring how many employees sign up for vaccination clinics as they are offered, and the system will be working with leadership at facilities where there is low uptake, to learn why employees are not signing up and to talk through any related questions, said Dr. David Basel, vice president of clinical quality for Avera Medical Group.
Dr. Neal Buddensiek, chief medical officer of Benedictine's senior living communities, said, "We need to get that trust (in the vaccines) as high as we can. We're helping people gain comfort with the vaccine by educating, educating, educating."
Buddensiek said to close in on herd immunity, Benedictine Living Communities will need to vaccinate 70 – 80% of their on-campus population, including staff and residents. "We must keep in mind that until the community at large outside of Benedictine has achieved herd immunity there will still be the possibility, although markedly reduced, for the virus to be transmitted within a Benedictine Living Community thereby causing an outbreak and possible morbidity and mortality," he said.
Communications blitz
Health systems throughout the ministry have organized task forces that have tapped into virtually every available communications channel to reach staff, including informal and formal meetings among leadership and staff, and dissemination of factual information through Zoom meetings, social media posts and print communications.
Allison Q. Salopeck, president and chief executive of the three-campus eldercare system Jennings in Garfield Heights, Ohio, said, "We are reaching out in any ways we can think of to educate staff."
Vancouver, Washington-based PeaceHealth had hosted six virtual town halls by the start of the year, with more than 4,300 caregivers participating, and many more listening to recordings of the meetings. "We are answering questions in the town halls and then expanding FAQs constantly to be distributed to all caregivers," said Jeremy Rush, PeaceHealth manager of public affairs. PeaceHealth has tailored the FAQ document for use on its website for patients and community members.
The 50-hospital Bon Secours Mercy Health system of Cincinnati is providing its vaccine information to staff on a dedicated intranet page.
Sioux Falls, South Dakota-based Avera Health — which has 35 hospitals, 40 eldercare facilities and a network of outpatient sites — has an email address where employees can submit questions about the vaccine.
Avera's Basel said he and other system executives are talking to the media and to community leaders about the efficacy and safety of the vaccine, knowing that those communications also should reach employees.
Kathleen Murray, the Benedictine staff lead coordinating the "Let's Roll Up Our Sleeves" campaign, said it includes a communications packet for the system's 32 senior living campuses with talking points for leaders, a customizable letter for staff and another for residents and their families, and posters and stickers promoting vaccination. Murray said Benedictine is debunking conspiracy theories and misinformation circulating on social media about the vaccines at its town halls.
Trinity Health Senior Communities is running a contest called "Hope for Hugs," in which staff write a short essay explaining why they want to get vaccinated. Jan Hamilton-Crawford, president of Trinity Health Senior Communities of New England, inspired the campaign when she penned an essay on how eager she is to get the vaccine so she may safely hug her grandchild.
Practical concerns
Justin Hinker, administrator at the Avera Prince of Peace long-term care campus in Sioux Falls, said he's not hearing about vaccine resistance from staff at his facility but he is fielding many questions, particularly about practical concerns such as how the vaccine is administered, the side effects, the cost (employees will not pay out of pocket) and the length of time of immunity. The questions mirror those he gets during flu vaccination season.
Benedictine's Buddensiek said he's heard some concerns from staff who are pregnant or post-partum. There is not yet data on the safety of the vaccines during pregnancy, and so Benedictine will be monitoring data to answer those questions.
Basel at Avera and Salopeck at Jennings said their systems had gotten word that some staff and residents were concerned about whether materials used in the development and production of the vaccine were ethically obtained. These leaders said they've been appreciative of resources from CHA and other faith-based groups that clarify that the Catholic Church finds that it is morally acceptable to take the Pfizer-BioNTech and Moderna vaccines. (See related story page 4.) Those vaccines were neither developed nor produced with fetal stem cell lines, according to Brian Kane, CHA senior director of ethics.
First in line
Salopeck noted that if there is vaccine hesitancy or suspicion among long-term care staff, it may be because they are not used to long-term care being put at the front of the line when it comes to public health.
Buddensiek has heard similar sentiments. He said his message to those who can get the vaccine in the near term is this: "What we are doing now — the tight restrictions, the isolation — it is not solving anything."
According to the Centers for Disease Control and Prevention, deaths of long-term care patients and staff account for nearly 40% of COVID deaths.
"We have had outbreaks in the majority of our facilities at this point," Buddensiek said. "We want to be part of the solution. We in long-term care are usually not at the start of the line. Now (with the vaccine) we are. And so, let's help lead for the world, let's be part of the solution."
Copyright© 2021 by the Catholic Health Association of the United States, reprinted with permission