Madonna Car Show a cruising success – Byron Review
October 8, 2018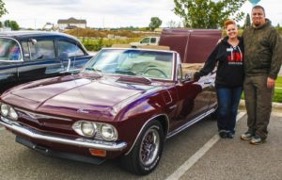 By Gretta Becay, Byron Review
More than 25 vehicles belonging to car enthusiasts turned out for the inaugural autumn car show and party at Madonna Summit Sept 21.
The theme of the party was the 1950's and popcorn and snow cones were available as well as a buffet with hot dogs and all the fixings. A photo booth was set up so people could have their picture taken with a 50's-themed frame.
As more and more classic and shiny new vehicles cruised into the lot, organizer, Marie Peterson, who's in charge of marketing and community engagement at Madonna, became more and more excited with the turnout.
"Next year, we'll block out more parking spaces," she said.
One of the couples who attended and drove their 1965 Corvair Corsa convertible were Amy and Andy O'Hare. The couple just bought the car in May to replace their first collectible car, a 1969 two-door Chevy Impala hardtop.
On a spring Saturday last year –the day before Mothers' Day -a neighbor came to their door and said, "Your garage is on fire!"
Sure enough, it was and everything inside the structure was destroyed including their Impala. They'd had the car for 17 years; longer than their children. Ahnika is 15 and Abbott is 11.
Amy and Andy decided to get another collectible car; this time a Corvair convertible. A year to the day after the heart-breaking fire, they found their dream car in Illinois. The completely restored car was located about one hour south of the Quad Cities in Illinois. The man who sold it to them wanted to sell it to someone who would appreciate it, reminisced Amy. He even trailered it to Rochester for them.
Ahnika and Abbott loved the Impala but they also love the Corvair. After all, it is a convertible. The two enjoy going to car shows with their parents, sitting in the lawn chairs, eating snacks, and walking around and seeing the other cars and people. They know it's ok to 'look but don't touch.'
The children didn't accompany their parents to the Madonna car show but there were plenty of people there to admire the Corvair and to chuckle that the trunk lid was up instead of the hood. Corvairs had their engines in the rear of the vehicle.
Colby Tushas played his guitar and sang and Michelle Anderson and Kelsey Wright and her parents, Lisa and Mike Wright, helped organize and staff the event.
By popular vote, Best in Show were two Studebakers; a 1963 Gran Turismo Hawk and a 1949 Champion convertible. The two cars are owned by Jane and Michael Cabaya.
The best paint job award went to Jana and Dennis Nawrocki for their blue Corvette. Best 'under the hood' went to Jennifer Kirkham from the Rochester Drifters Car Club.
Best interior went to Dwight Ward of Kasson for his orange 1955 Chevy two-door sedan. The most original car award went to Daryl Glassmaker and his 1957 Chevy 'Shorty'.
Cars from the Pine Island Car Club and the Southeast MN Sports Car Club also rolled in as well as several individuals with their cars who are not affiliated with any club.
Peterson is looking forward to next year. "September is the perfect time for a car show," she commented. "The residents enjoyed it, staff members enjoyed it, and I hope the cars' owners had a good time, too."