Former Benedictine Board Chair, Janet Mohr, Receives Distinguished Service Award
March 26, 2019
Duluth, Minn. – Former Benedictine board of directors' member and chairperson, Janet Mohr, recently received the Distinguished Service Award from the Minnesota Board of School Administrators at their spring conference in Minneapolis, Minn. Mohr was acknowledged for her support of Minnesota children and for her contributions to improving Minnesota's public education system.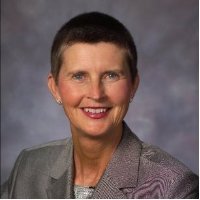 "Janet has worked tirelessly on behalf of students, families, the community, and her colleagues. She simply exemplifies what it means to live a life of service," said Dr. Deb Henton, Superintendent of North Branch Public Schools. "Janet's service has made a difference in the communities she served and state-wide. We have all benefitted from her tireless service and will for years to come as she has led accreditation efforts for many of the state's colleges and universities and assisted in establishing high standards of conduct for all licensed administrators."
For more than 40 years, Mohr has worked to serve public education in Minnesota by positively contributing to the lives of children, families, and communities. During her extensive career in public education, Mohr held an impressive amount of titles including: superintendent, principal, assistant principal, director of mental health, school psychologist, director of special education, associate professor, and high-school teacher. The districts she has served include the East Metro Integration District 6067, Northeast Metro Intermediate School District 916, Argosy University, Minnesota State University-Moorhead, Frazee-Vergas Public Schools, Detroit Lakes Public Schools, and the Buffalo Valley Special Education Cooperative in North Dakota.
An active member of numerous Minnesota Association of School Administrators committees as well as having served on many professional boards and committees, Mohr served three consecutive terms on the board of directors for the Benedictine, Duluth, Minn., including one year as vice-chairperson and two years as chairperson. Benedictine also recognized Mohr as trustee of the year in 2011 for her work championing the Benedictine Performance Excellence effort and the Benedictine strategic direction, and for strengthening the governance oversight of the System.
"We send our congratulations to Janet on this important recognition as an educator in Minnesota," said Jerry Carley, Benedictine president/CEO. "Her extensive knowledge, professionalism and drive toward excellence was a tremendous resource to Benedictine during her long-term service as a member and chair of our board of directors. We continue to see the benefits of her guidance to this day."