Enjoying a Fulfilling Life at Benedictine: A Resident's Perspective
March 29, 2022
"I'm very fortunate to be in such a nice place. Every minute is a joy."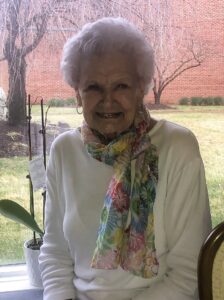 Resident Shirley H.'s words echo the sentiments of so many at Benedictine. When asked about her experience since moving here, she willingly and graciously tells her story of what it means to be a resident and how the community has impacted her life.
Journey to Benedictine
Shirley became part of the Benedictine family nearly 13 years ago. She had recently suffered a minor stroke after having both of her knees replaced, and her children encouraged her to move to independent living.
Shirley was quite independent at that time, and she quickly discovered that Benedictine Living Community-At The Shrine had numerous opportunities to help her maintain an active, fulfilling life.
Serene Campus Near St. Louis, Missouri
Nestled on the grounds of The National Shrine of Our Lady of the Snows, Benedictine is surrounded by 200 acres of nature, including woods, gardens, walking paths and wildlife in Belleville, Illinois.
"My independent living apartment looked out over a wooded area where I would see deer, a lot of other wildlife, and many birds," said Shirley. "There's a lot of birds around here, even hummingbirds. I enjoy seeing the birds at the feeders people put outside their apartments."
Explore The National Shrine of Our Lady of the Snows >>
Having been born and raised only two miles away from Benedictine, Shirley is quite familiar with the area. Her daughter still lives nearby, while both her sons live in the Carolinas.
"There's a lot to see and do here," added Shirley. "And we're only 20 minutes from St. Louis. I have a view of the [Gateway] Arch from here. Many people live around here and commute to work."
Numerous Activities and Dining Options
Upon visiting Benedictine, you'll likely notice an active setting with residents doing crafts, playing cards, exercising and attending musical programs. There are a variety of activities planned to suit many different interests and hobbies.
"You could be busy every minute if you wanted to be," said Shirley. "I read a lot, and I play bridge, so I keep as busy as I want to be. And that's the thing; you can do what you would like."
Residents who enjoy helping others can participate in volunteer opportunities, work in the community garden or join the community rhythm band.
Live an active lifestyle at Benedictine >>
Transportation services to local attractions, doctors' offices and grocery stores are also available. This amenity enables residents to maintain their independence longer.
Each level of care at Benedictine has its own dining room, but all residents are welcome to eat in the main dining room whenever they choose. Residents are also encouraged to have friends and family join them for a meal prepared by our culinary team, or they may choose to join their loved ones at an off-campus restaurant.
Loyal Staff and Meaningful Friendships
"All the people here are wonderful," said Shirley. "Many of them have been here for quite a few years, and they're very, very helpful and very kind. It's a very nice community."
A dedicated staff is ready to help and provide a comfortable, safe and enriching environment where residents can live fully and live well each day.
Maintenance workers hang pictures and make repairs on short notice after one phone call. And housekeepers clean apartments and common areas to ensure living spaces remain spotless and ready to welcome visitors.
Welcome new residents to Benedictine >>
Residents are quick to introduce new neighbors to the community and help make them feel at home. Shirley has found it easy to meet people and has made many friends over the years.
"Many of my friends live here, and I see them often," said Shirley. "We play cards, and on nice days, you can sit outside in the lounge chairs or go on a walk. People walk their dogs and visit with their families. It's just amazing."
Continuing Care to Meet Changing Needs
Benedictine offers continuing care to meet the residents' changing needs. In addition to independent living, residents may transition to assisted living or skilled nursing. A caring, professional health care team is available 24 hours a day.
When Shirley found that she needed some additional assistance with her daily activities, she moved to an assisted living apartment.
"I have a lovely picture window that looks out on a flowering wild cherry tree," said Shirley. "In the springtime, it's beautiful. Our grounds are gorgeous."
Discover what's included in Benedictine's assisted living fees >>
If Shirley requires help with anything, she has a supportive staff available to assist her day or night.
"There are things that they do that you never have to ask them," said Shirley. "And they're right there to do it."
A retired registered nurse, Shirley appreciates the help she receives and recognizes the longtime Benedictine staff, many of whom have worked here for over 20 years.
"Everyone seems to enjoy their jobs. You don't hear a lot of complaining at all," said Shirley. "They see a need certain people have, and they're right there to take care of it. I think I'm in the right place."
Learn More About Life at Benedictine
If you're ready to learn more about life at Benedictine and meet residents like Shirley, contact us to schedule a visit.